I know my blogs have been scattered as of late, but basically thats how my brain thinks.
So,
deal
with it!
I dare you....to...deal with it. Ahg. I'm sick. I can't be clever right now. Anyhoo, nuff bein sorry for me. What I was originally going to write about was this...
Harry Potter : The Half Blood Prince.
Hey remember when it was supposed to be out in theatre's this November? Like, by now, December 13 we all would have seen this movie? And we'd be leaping in the aisles with joy because it was so good, and David Yates should have directed all the Harry Potters (except for #3 which was pretty awesome, and not #1 or #2 which were real good...but #4 because it wasn't as cool as it should have been) ?
And remember how we've waited for what seems to be forever for the next Harry Potter movie only to be told that we have to wait for 7 more months to see it? Even though they released
the trailer
in August? IN AUGUST?
So July huh? well, I guess I can't argue seeing as I don't "run Hollywood". But let me tell you I'm pretty disappointed. Yeah, I said it. I'm disappointed.
In other ramblings, I'm trying to come up with a blog title and THAT one came up randomly. You know, that one...the one that my blog is titled. And I'm like, what? weird. So, I actually looked it up and THIS is Hanny's Voorwerp...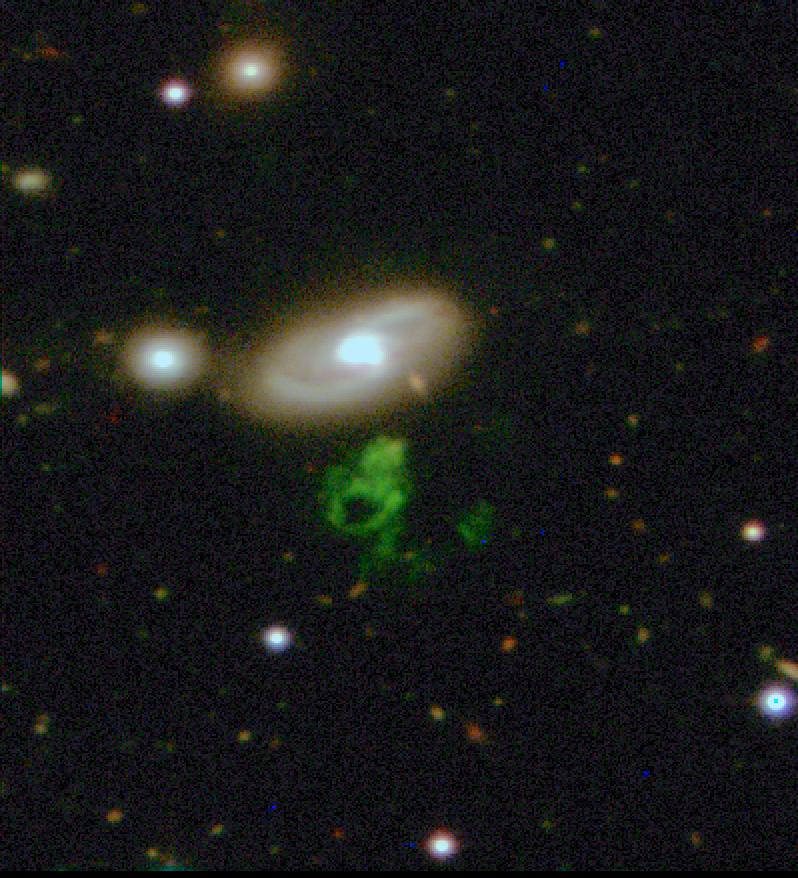 Its the green thing.
Basically its Hanny's (who is the Dutch astronomer that found the thing) Voorwerp (or "object" in dutch).
Hey, you learned something today. Give yourself a hand.

Also, I'm going to watch Doctor Who right now because I gotta rest, on accounta, I'm sick and last night's sketch show performance made me all tired. I'm putting it off though because..this is the last series* you can get on dvd. And Russell T Davies (the genius of a head writer / producer) and David Tennant are leaving after a couple of specials they have yet to film. YET to film means I'll get to see them in 2010 because I don't have cable and I don't live in the UK. So...dammit.

*series - british talk for "season"

bless you. Did you sneeze?

Luv leslie